Combined Master's Degree and Dietetic Internship
NMSU Dietetic Internship Program Directors
Dietetic Internship Director: Mrs. Sylvia "Gaby" Phillips MS, RD, LD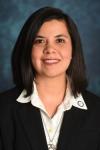 Sylvia "Gaby" Phillips is a registered dietitian who is currently pursing a PhD in Plant and Environmental Sciences at New Mexico State University (NMSU). She graduated from NMSU with a master's degree in family and consumer sciences with an emphasis in human nutrition.
Gaby earned a bachelor's of science degree in nutrition and food science at Universidad Iberoamericana (ACEND accredited program) in Mexico City. Her senior thesis was titled: Effects of Carbohydrate Gel Supplementation on Mexican Elite Triathletes during an Olympic Distance Triathlon.
Gaby completed the Lifestyle Coach training program at the Diabetes Training and Technical Assistance Center (DTTAC) at Emory University in Atlanta, Georgia, and she obtained the level one Certificate of Training in Adult Weight Management offered by the Commission on Dietetic Registration (CDR) in Nashville, Tennessee. She also completed program director training at the Accreditation Council for Education in Nutrition and Dietetics (ACEND) at the Academy of Nutrition and Dietetics headquarters in Chicago, Illinois.
Gaby possesses different work experiences in different dietetics fields such as clinical, foodservice, and community nutrition in the U.S. and Mexico.
She has been a speaker in international congresses such as the International Congress of the Mexican Nutrition Society in Mexico City. Gaby presented a poster at the International Congress of Dietetics in Granada, Spain, in September 2016.
Gaby has worked for NMSU in different programs and capacities. She served as the Dietetic Internship Assistant Director under the direction of Dr. Wanda Eastman.
For NMSU Cooperative Extension Service, Gaby has worked as a program specialist, program coordinator, and nutrition educator at the state and county levels. She helped facilitate different programs such as the National Diabetes Prevention Program (NDPP), Kitchen Creations--a cooking school for people with diabetes--and Ideas for Cooking and Nutrition (ICAN).
Her NMSU career began with a SNAP-Ed/EFNEP funded program where she started out as a nutrition educator and ended up training other nutrition educators at the state level, reporting directly to the program director.
Gaby enjoys making an impact in the community and educating future registered dietitians. She believes being a registered dietitian is a great way to make a difference in people's lives by helping them to improve their health and well-being.
Sylvia "Gaby" Phillips, MS, RD, LD
Department of Family & Consumer Sciences
New Mexico State University
PO Box 30003, MSC 3470
Las Cruces, NM 88003
Phone: (575) 646-4117
Fax: (575) 646-5042
Email: gabyphil@nmsu.edu
URL: http://dieteticinternship.nmsu.edu
Dietetic Internship Assistant Director: Mrs. Kathy Vinyard, MS, RD, LD
Kathy Vinyard, MS, RD, LD
Department of Family & Consumer Sciences
New Mexico State University
PO Box 30003, MSC 3470
Las Cruces, NM 88003
Phone: 575-646-1180
Fax: (575) 646-5042
Email: kviny68@nmsu.edu
URL: http://dieteticinternship.nmsu.edu